GGE-10D AGC CATV Optical node fiber optic devices
Performance Characteristics
1.Aluminum die-cast housing, excellent waterproof and dustproof.
2.Dual output ports with high output level CM, CSO, NEC GaAs branded module.
3.Variable EQ. and ATT.
4.AGC Optical receiving module ( -8~ +2dBm) , superior reliability and stability.
5.Digital display brings clearer and more accurate data.
6.High efficiency Switch Mode Power Supply, 220VAC and 60VAC both.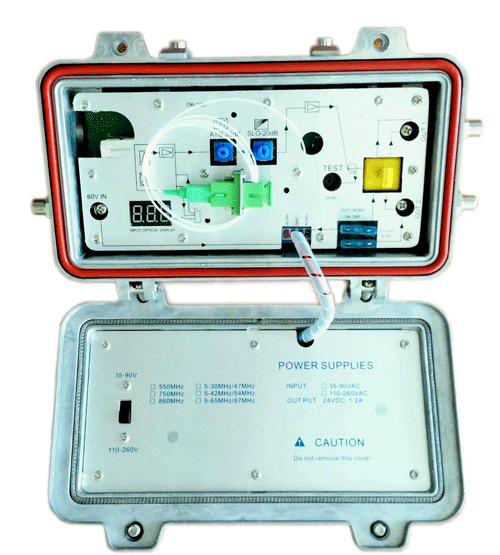 Technical Specification
 

Number Item

Unit

Description

Remark

 

 

Optical Parameters
 

 

1

Wavelength

nm

1290~1600

 

2

Optical input range

dBm

-8~+2

 

3

Optical Return Loss

dB

>45

 

4

C/N

dB

>51

 

5

CTB

dB

>65

 

6

CSO

dB

>60

 

7

Flatness

dB

≤±0.75

 

8

Optical Connector Type

 

SC/APC  or   FC/APC

 

 

 

RF Parameters

 

9

Frequency Range

MHz

45~862

 

10

Input Impedance

Ω

75

 

11

Return Loss

dB

>14

 

12

RF Output level

dBuV

102(CM Hybrid)

105 (GaAs)

13

EQ. range

dB

20

 

14

ATT. range

dB

20

 

15

Output test

dB

-20

 

 

 

General Parameter

 

16

Power Input Voltage

VAC

160~265  and   35~70

 

17

Dimensions

mm

189(L)*90(W)*86(H)

 

18

Package

 

1piece/Box. 10pcs/Ctn

 

19

G.W

kg/Ctn

16.50